Fiddling her way through history

For almost 60 years, studio musician Irma Neumann has fiddled while Rome burned and the Titanic sank -- twice.

November 9, 2003 | by Constance Meyer | The Los Angeles Times

Even if you sit through the end credits of a movie, watching the crawl that lists all the little people who belong to unions requiring that their contributions be acknowledged, you're still not seeing the names of a host of anonymous laborers in the filmmaking process. If a picture has a big symphonic score, the credits may be missing as many as a hundred musicians.

Violinist

Irma Neumann, a white-haired, jolly-looking woman who will be 88 on her next birthday, is one such player. She has worked on countless films, TV shows and commercials.

Neumann began participating in scoring sessions nearly 60 years ago. In 1953, she played for "Titanic" under composer Sol Kaplan and in 1997 for "Titanic," scored by James Horner. She has played for Alex North, Bernard Herrmann, Dmitri Tiomkin, Henry Mancini and Randy Newman, on films ranging from "Butch Cassidy and the Sundance Kid" to "M*A*S*H" to "Cleopatra." Her recent credits include the "The Matrix Revolutions," the coming HBO adaptation of "Angels in America" and the soon-to-be-released "The Cat in the Hat."

And she has no intention of retiring.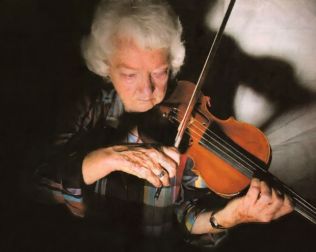 When she goes to work these days, Neumann says, "it's different, because I don't know a lot of the people. Everybody looks so young. I stick out. I'm greeted as if I were something special." But, she says, "I don't know what I'd do if I didn't play the fiddle."

Neumann

grew up in Los Angeles. Her mother was a painter who dabbled on the violin; her older sister, Pauline, now 92, studied piano. By the time she was 5, Irma was determined that she too would play the violin.

"Wouldn't you rather have a cello?" her mother asked. No. There was always a violin in the house. And lest you get the wrong impression, she adds, "I didn't fool with it."

By her mid-20s, however, she had studied with several teachers and become proficient enough to play in orchestras and as a soloist for both local and national radio broadcasts. "I had no dreams of playing in the studios," she says. "I had a trio with Pauline and a cellist named Louise Friedhofer. Louise's brother was a composer for the movies, Hugo Friedhofer" -- whose best-known score was to be "The Best Years of Our Lives" in 1946.

In 1943, Neumann auditioned for and joined the Los Angeles Philharmonic. But in those days, movie studios had their own orchestras -- there were eight at the time, she recalls -- and two years later, she was offered a job playing at 20th Century Fox. She decided to go for it.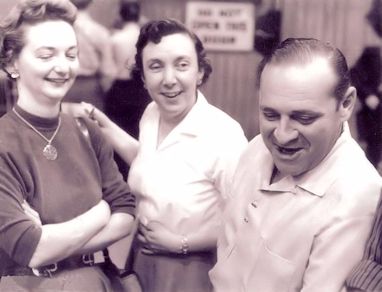 The year

Neumann joined the Fox orchestra, 1946, the music department was headed by composer-conductor Alfred Newman and his brothers, Lionel and Emil. There were only six women in the orchestra: a harpist, a flutist, a violist, a cellist, another violinist and Neumann. Occasionally, she remembers, the flute player had trouble breathing. "The room was blue. Everybody smoked. People carved out notches on the wooden stands to put their lit cigarettes. While we were playing, the cigarettes were still lit."

Fox orchestra members signed a contract every year. "We were paid 10 hours a week whether we worked or not. We were paid two weeks' double pay for vacation. We never did 10 hours a week all the years I was there. Some studios did. The contracts lasted for 10 years, and then the producers decided they were spending too much, so it was done away with and we were just paid by the hour, as we are now."

Being a freelance musician, Neumann has played on numerous recordings as well. She was in the Roger Wagner Chorale for 15 years and played 31 seasons with the Glendale Symphony. She soloed with the Pasadena Symphony, playing a Paganini concerto.

"I've played the Academy Awards 28 times. The first time I played it was when Lionel [Newman] was invited to do it. Lionel insisted on using his own orchestra," the Fox ensemble.

Neumann regrets that the format of scoring has changed. It was more interesting in the old days, she says, when "you felt as if you were a real part of it." Until just a few years ago, the orchestra sat in a semicircle facing the conductor, who could watch the musicians as well as an enormous screen showing the movie behind the orchestra. Special streamers were placed on the film to indicate when the music should begin and end. Musicians heard what they had done on a playback in the orchestra room. Sometimes the orchestra even heard the dialogue track, and some composer-conductors even gave the members a little synopsis of the film, not for "Method" playing but just to be kind, informative or chatty in a business with serious money and time constraints.

She is sorry that nowadays there is no giant screen. Musicians play on films with no knowledge of the plot, the actors or any of the particulars. The conductor still has his timing streamers, but they are on the screen of a small video monitor next to him.

On the other hand, there are now far more female players than in 1946, though not as many as men. The base pay is about $500 for a six-hour session, and there are also health and welfare benefits and residuals.

Neumann is not a sentimental dame. Yet there is a touch of something in her voice when she talks about playing for the Newman brothers, David and Tom, sons of Alfred, nephews of Lionel and Emil and cousins of Randy. She recounts bumping into Tom and his wife at a book signing for a memoir by Louis Kaufman, a former concertmaster at Fox, that was completed by his widow, Annette. According to Neumann, "Tommy said, 'Somebody told me you had quit playing.' I said no. 'Oh, I'll see you,' he said."

A few weeks later, Newman, standing on the podium conducting his score for "Angels in America," broke into a big smile when he spotted Neumann in the violin section, her singular snowy head of hair sparkling in a sea of blond and dark hues.

"Hi, Irma!" he said, and waved.
Copyright 2003 Constance Meyer. All rights reserved.