Precision strike force

New music and technology have percussionists taking up a whole new world of noise toys, but L.A. pros agree that one thing hasn't changed: Accuracy is key.

May 23, 2004 | by Constance Meyer | The Los Angeles Times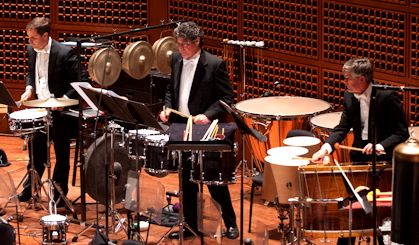 The percussion section stands at the back of the orchestra, facing the conductor, gladiators poised for battle. These warriors are armed with their bare hands, mallets, sticks and scores of other utensils that can tap, hit, scrape, shake, pound, bow -- you name it -- to get a response from literally thousands of instruments. Kiddie percussion kits may make what they do look like child's play, but it requires the precision of a marksman.
No wonder the assassin in Alfred Hitchcock's "The Man Who Knew Too Much," (played by Peter Lorre) charged with firing a deadly shot in a concert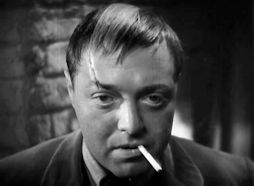 hall just as a cymbal crashes, receives a brief course in musical timing.
Indeed, the late George Plimpton, who famously chronicled making his Walter Mitty-style dreams come true, described playing triangle with the New York Philharmonic as far more difficult than playing quarterback with the Detroit Lions. "I found myself not being able to fall asleep nights," he wrote. "The mental anguish is multiplied by the fear of coming in on the wrong note, that you might damage the entire performance."
Since the Stone Age, percussion instruments have played a major role in every culture -- in communication, ceremonies, the military. But unlike the other sections of the orchestra, which have remained relatively unchanged for hundreds of years, the percussion section is constantly growing. In the Baroque period, it consisted basically of timpani: two kettledrums with fixed pitches. Over time, it came to include instruments that were both pitched, or set to a specific tone, and nonpitched. By now, just about anything's fair game. The most famous number in Verdi's "Il Trovatore," which begins a nine-performance run at Los Angeles Opera on Thursday, is the Anvil Chorus. Verdi hoped for an anvil in the pit; L.A. Opera substitutes four lengths of pipe.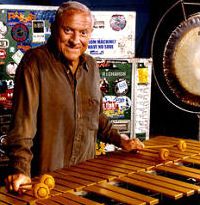 Often, a passion for percussion seizes a player in childhood. Emil Richards was 6 when he made such a fuss at a music store while his older brother was getting an accordion that his father shouted, "What do you want?!" Emil "just pointed. I didn't care.... It was a xylophone."
Despite the capriciousness of that choice, Richards took to his new instrument immediately. Sixty-five years later, he is one of Los Angeles' foremost mallet players -- specializing in instruments, like the xylophone and marimba, that produce melodies when struck -- and is world-renowned for his skills on his huge collection of exotic percussion instruments. He has played on innumerable film scores and worked with Frank Sinatra, George Shearing, Ravi Shankar, Frank Zappa and the Beatles. And he learned early on the importance of accuracy in his trade.
By the time he was a 10th-grader in Connecticut, Richards was good enough to be recruited to appear with the Hartford Symphony under guest conductor Arthur Fiedler. Leroy Anderson's "Classical Jukebox" required the fledgling to hit a cowbell with a silver dollar. But because his eyes were glued to the conductor, he missed the bell, hit a French horn player, lost his grip on the coin and watched helplessly as it rolled down the risers and landed, after a lengthy spin, at Fiedler's feet. The conductor retrieved it, walked purposefully up the risers and said to the tuxedoed 16-year-old: "Shall we try it again?"
Now, when teaching, Richards stresses to his students the importance of peripheral vision.
A path from rock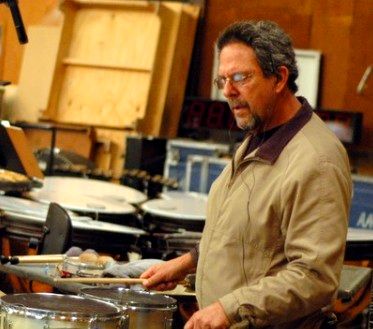 Not every percussionist comes to orchestral work after years of study. Peter Limonick, 55, made the journey by way of rock 'n' roll. "I could play a good backbeat," he says. Limonick, a much-in-demand studio player, had studied piano and classical guitar and was accustomed to hearing his father, Marvin, a professional violinist, practice and play chamber music with friends. But it was a recording of Bartok's "Music for Strings, Percussion and Celesta" that "locked me up as a potential player." Limonick and his father would "break out Mozart or early Beethoven string quartets. I'd play my part on xylophone or marimba. Any violinist who would play string quartets with a xylophone player is either crazy or he's got a lot of love."
In 1970, Limonick won an audition to "earn as you learn" in the percussion section of the Milwaukee Symphony. The first concert he participated in included Elgar's "Enigma Variations." "I was playing cymbals," he remembers. "A part to be reckoned with. The basses come in on a low G and the floor is shaking. It was just so gorgeous I stopped counting and didn't know where I was. I was out of my league. Somehow I managed to catch myself, came in on my first entrance and was off and running.
"If you've never sat in the percussion section, you wouldn't know that acoustically, it is not the ideal spot," he adds. "It's so loud. And there's lag time. The ultimate place would be principal oboe or flute. You've got full surroundsound and you're close enough to the strings to lock in with them."
Tom Raney, 54, timpanist with the Los Angeles Chamber Orchestra, the Pasadena Symphony and the Hollywood Bowl Orchestra, took yet another career path. Raney, who also plays on studio dates, started out as a piano player, but competing with a drummer for a woman's attentions persuaded him to change course. He went on to study at USC with some of Los Angeles' finest in the percussion realm: Ken Watson, William Kraft and Earl Hatch.
"One of the great things about playing percussion," Raney says, "is that we probably have the best palette of any of the instruments of the orchestra. Between the variety of instruments, the materials used on those instruments, the range, the dynamic capability, we just have more fun than anybody. Boys with toys."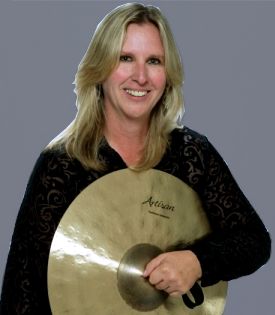 Actually, there are a number of women in today's percussion sections. Theresa Dimond, 45, was recently appointed principal percussionist with the Los Angeles Opera and is timpanist with the Pasadena Pops and the California Philharmonic. She also plays frequently with the Pasadena Symphony and the Los Angeles Master Chorale.
Although Dimond auditioned to enter USC as an undergraduate on piano, oboe and percussion, she was offered a full scholarship on percussion. And at 17, she recalls, she didn't "realize what the repercussions of that decision" would be: "You're going to have to buy 18 timpani, marimba and other instruments by the time you're done, as well as move all your equipment around. I weighed about 100 pounds."
Dimond has one carpet bag for timpani sticks, another for percussion sticks and mallets and a third for bass drum and gong beaters. "Mallets are like shoes. You can never have enough," she says. But hauling around her delicate, easily crushed mallets for the cimbalon -- a sort of oversized dulcimer -- has become harder since 9/11. "It's just a PVC piping tube. But apparently it looks like a pipe bomb."
Sitting at her dining room table -- a 2-inch-thick sheet of glass atop two enormous American-made taiko drums -- Dimond confides that being principal percussionist with Los Angeles Opera can be "more of a treasure hunt than worrying about playing a tough 16th note lick." It is her responsibility to rent the pitched gongs for "Madame Butterfly" and arrange for the anvil-sounding pipes for "Il Trovatore."
Dimond also says she's had to learn how to bide her time gracefully. "I had 11 notes in 'Flying Dutchman,' " she explains. "Over the course of three hours. Three notes in the first act and eight in the last. Patience is a virtue when you're a percussionist. We don't have melodies often. We add color, chime midnight, play thunder, crank a canvas-covered barrel for wind."
Raney, for his part, recalls "years ago doing 'Die Meistersinger.' You play the overture and I think the first scene and then it says an hour and 29 minutes' rest. You left the pit, went next door to the Curtain Call restaurant, had dinner, came back. And while you were there, since 'Die Meistersinger' is 4 1/2 to five hours long, so are half of the singers -- in costume."
In more contemporary music, by contrast, the challenges to percussionists have snowballed. "In the 20th century, the range of the drums increased because the mechanism for tuning them became easier," Raney says. "Today, some studio parts are almost equal to the bass parts, so we're trying to figure out, if you only have six drums but you have to play 12 different pitches during the cue, where and when to change, and what pitch to put where. I've often said I sold my soul to the devil so I can play in tune. I will use my ears, gauges, electronic tuners, any trick I can to get a drum in tune. You can tell when your drums are in tune because they open up. They sing."
More things to hit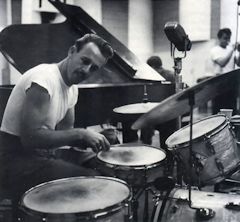 Beyond that, the number of instruments that percussionists may be expected to be proficient on is constantly rising. Larry Bunker, 75, is perhaps the most beloved member of the local percussion community. He's played live or on record with a host of jazz greats, including Billie Holiday, Gerry Mulligan and Bill Evans. Bunker says he was first smitten with percussion at age 4. His older brother helped him collect "pots, pans, cardboard boxes, stuff you could find in the trash" to play on, but by 1953 he was working as a sit-down drummer, vibraphonist and piano player in jazz clubs. Yet the self-taught Bunker recalls an audition that year he says was typical of the percussionist's lot: Cabaret singer Bobby Short asked if he could play congas; when he said no, Short responded, "Well, if you want the job, go get a drum, get it together, 'cause I have to have it -- or I have to get somebody else."
Still, "the demands on the players on percussion at that time were nothing like what they are now," Bunker says. "Nobody dared write the kind of music they do today. If I were to show up now as ill-equipped as I was then, it never would've happened."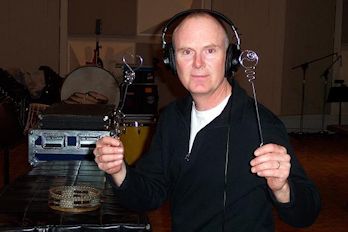 Bunker did learn the congas. So did Michael Fisher, who was a 15-year-old in Denver 30 years ago, playing lead guitar and singing with a rock band, when he was called upon to pound the elongated drums. He became so fascinated that he eventually moved to Los Angeles to pursue a career in world/ethnic percussion. Today he plays everything from the bodhran, an Irish frame drum, to udu drums -- fired Nigerian clay pots.
"When I started, it was very difficult to find instruments," he says. "You usually had to go to that country. Or maybe there was one guy here in town who had a couple of drums, and there'd be word of mouth. I like when I get into an instrument. I'll just stick with that instrument for a while. I'll try to search out who's the best player in the real ethnic world, in town. Take the Egyptian tambourine, the riq. There's a guy in Vegas who's just fantastic on it. I would get lessons when he'd come to town. For several years I was just pretty much working on tabla."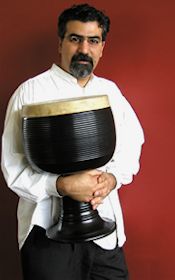 Although many musicians now do electronic percussion, Fisher was an early player in that field as well. Among the more esoteric sounds he has "sampled" is a "cowling from a 747 engine -- rolling marbles in it."
"For the last few years, there's been more hand percussion and groove-type playing, getting a part where there's just slashes," he says. "There's not much written. They ask you to come up with ideas and work with you to find which ideas work best for the piece.
"There's always something else to learn. Currently I'm studying with Persian percussionist Houman Pourmehdi, learning to play the instruments called dayre and daf as well as learning to apply tombak finger techniques applied to the Spanish or Peruvian cajon. Our middle names are maintenance."
In fact, asked whether he ever gets bored, Tom Raney probably speaks for most working percussionists: "Are you kidding? I get to do this for a living!"